2016-2017 Science Olympiad Team
Posted by District Staff at 4/13/2017 1:00:00 PM
Congratulations "Science Olympiad" Team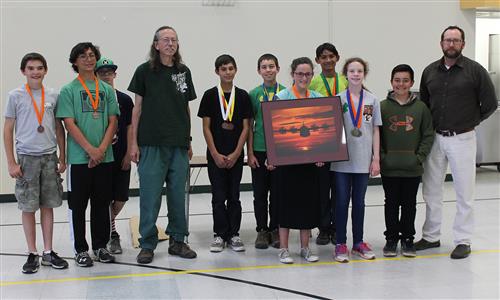 High Desert Science Olympiad Team, competed at the annual AV Regional Science competition, along with 25 other schools in 23 different events. Our ten member team, placed 10th overall, and brought in six individual event medals.
The "Science Olympiad" team is directed by Mr. Larry Speelman, team members include: Anthony Saenz, Emily Goldner, Amanda Ames, Christopher Pape, Nathaniel Thiebaud, Kyle Schroeder, Jacob Van Ornum, Braedon Flores, Dean Matas.
Mr. Bill Schneider, from Lockheed-Martin Skunkworks, attended the ceremony and presented the team with a special award.
As Mr. Larry Speelman stated, "Our tiny little team did really, really good!