HIGH DESERT HAWKS DANCING FEET TEAM
Posted by District Staff at 3/17/2017 8:40:00 AM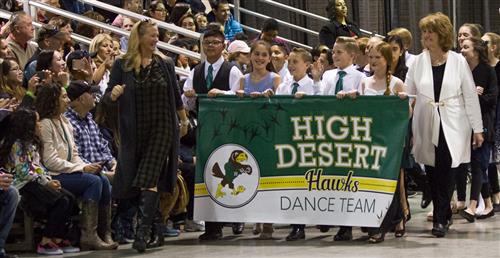 For the second straight year, High Desert School won the prestigous Valerie Davenport Spirit Award at The Dancing Feet Competition held at the Antelope Valley Fair Grounds.
High Desert brought a team of 23 students to the dancing competition, after fielding only six dancers last year in the school's first attempt at the event.
Teachers, Dianna Spiegel and Joan Millar, were proud to report that 14 High Desert couples made it to the finals dancing in the Merengue, Rumba, Single-Time Swing and Foxtrot against teams from five other local schools.
In addition to the competition on Feb. 25th, the team was judged on how the sudents comported themselves with each other, with adults, and students from competing schools at a pancake breakfast fundraiser and social dance. The 6th grade HDS boys' willingness to "reach across the aisle" was noticed and appreciated. To reach across the aisle means to dance with 7th and 8th grade girls from other schools that would have otherwise sat out a dance because they did not have a partner. Impressively some of the dance partners from HDS and Hillview Middle School made it to the finals even though they had only met 30 minutes before the competition began!
Congratulations to our High Desert Dancing Feet Team!