Posted by District Staff at 3/15/2017 2:00:00 PM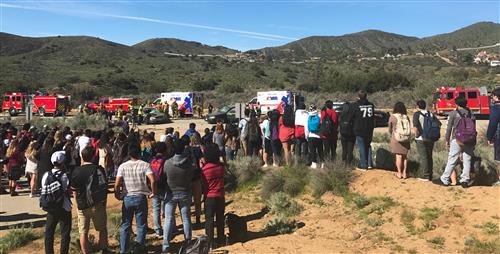 The Every 15 Munutes program is a two-day program focusing on high school juniors and seniors, which challenges them to think about drinking, driving, personal safety, the responsibilty of making mature decisions and the impact their decisions have on family, friends, their community, and many others.
This program is funded with grants from California Office of Traffic Safety and, the California Highway Patrol. Vasquez High School was one of the schools picked for this grant.
The first of a two day event, began with a staged traffic accident on Red Rover Mine Road. The following day was an assembly where all parties involved had an opportuntiy to discuss the event and impact on them.
To watch the complete two day event, visit our Vasquez High School web page. The video depicts the event from the accident to the court hearing!
Thank you to all who participated.